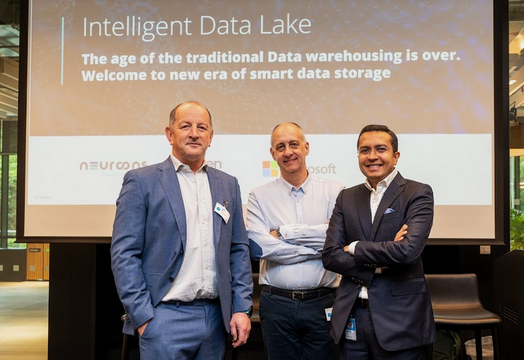 Data driven making decision and deploying AI, the gold standards for business
neuroons has launched Data Lake in-a-box, an innovative solution that dramatically reduces time to data insight, simplify data engineering, lower consumption costs and future-proof companies' data architecture. The solution was presented with the support of Microsoft Ireland at an in-person event held recently at One Microsoft Place in Dublin.
The new era of smart data storage
Data Lake in-a-box solves a growing problem every business faces today: the need for a scalable, low-cost data repository that allows organisations to easily store all types of data from a range of sources, and then analyse that data to make evidence-based business decisions (BI/AI).
"We identified, with our medium to large customers, a need to move fast, securely and get some proof of value from their data  for their organisation. We decided to build a repeatable solution to match this need. The result is Data Lake in a box.", said Javier Viñuales, Javier Viñuales, Consultancy Manager, neuroons.
Immediate benefits can be achieved in a reasonable short time frame in cost reduction of storage, improved security and much easier access. But the real benefit is the value that businesses get from regular integration of whole company data.
"If you are in business, you are in the data business.  The challenge that organisations face is how to make the transition to make data driven decisions, to get the data at the core of how they decide to grow. Data Lake in-a-box gives them an early milestone in this direction", said Karl Llewellyn, Country Lead, neuroons.
At the event, Bibhas Bhattacharya, Business Group Lead for Azure (Cloud & AI), Microsoft Ireland shared value propositions from a range of industries that have successfully deployed similar solutions combined with AI.
"The opportunities that lie within AI and data are truly endless. At the core, AI and data can help an organisation understand its customers better, which will ultimately lead it to serving them better. Equally, AI and data can enable an organisation to get to know their own business better, thus driving efficiencies through people, process, which can also extend to addressing sustainability challenges. However, any AI project needs to start with the business outcome and technology will follow", said Bibhas Bhattacharya.
To this challenge, neuroons are currently offering organisation a free initial project scoping by one of our lead Data Engineers and an Independent Solution Assessment by Microsoft including a sustainability over layer on the whole project.