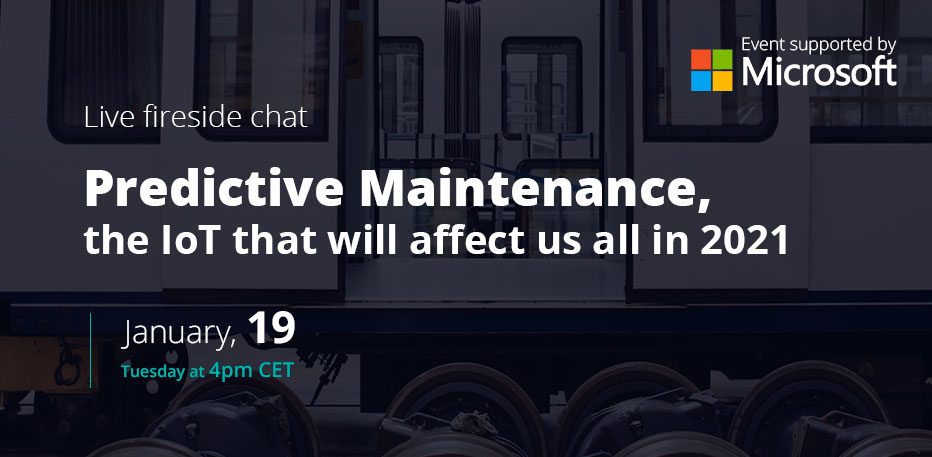 Predictive Maintenance, the IoT that will affect us all in 2021
Live event on January 19 at 4pm CET
Join us for our next live fireside chat about predictive maintenance, the IoT that will affect us all in 2021. Discover the insights and learning from practical use cases of the Internet of Things (IoT) and Artificial Intelligence (AI) that are diving into the heart of predictive maintenance and changing it forever.
A disruptive approach to maintenance
The emerging phenomenon of IoT provides many opportunities to manage maintenance in a completely new way. Predictive analytics solutions such as predictive maintenance have proven to be extremely beneficial to any companies' productivity, utilization, reduced downtime and can ultimately deliver significant cost savings.
Register for this upcoming webinar, supported by Microsoft and find out how digitising and operationalizing the maintenance of assets, devices, and equipment can improve your company's reliability and efficiency and optimise end-to-end value chains.
Don't forget to RSVP today!
Featured speaker
Karl Llewellyn, Country Lead at neuroons
With more than 20 years of startup and international growth experience, Karl is today the Country Lead for neuroons. His role is to build and manage the team that will create an awareness of neuroons in large organisations across Ireland and the UK.
Brendan Carroll, CEO at EpiSensor
CEO at EpiSensor, an Internet of Things platform for Industry that makes it 10x easier to collect real-world data that's used to improve efficiency, sustainability and quality.
Javier Viñuales, Partners Manager at OpenSistemas
Entrepreneur, restless innovator, lover of science and technology, in love with the Internet and open source software. Currently, he is the Partners Manager at OpenSistemas, a high-level technical role to empower the company through strategic partnerships with the world's leading providers of Data & AI cloud solutions.